What is Digital Measures?
Digital Measures is a state-of-the-art reporting tool for faculty at the College of Law. Report recent academic information and accomplishments, update or edit previous information and export your information. Log in now »
The Digital Measures initiative is managed by University IIT, but Law Technology can assist with most issues. (Email the Helpdesk to request support.)
What can I use Digital Measures for?
Use Digital Measures to input any recent activities, academic projects, awards or accomplishments. You also may generate an automated CV using Digital Measures custom reporting.
How do I classify my activities?
If you are unsure which category to choose for a given activity, please see the category reference table.
How do I classify my publications?
1.        Enter publications of all types under Scholarship/Research > Intellectual Contributions/Publications
2.        Under Contribution Type, use the following categories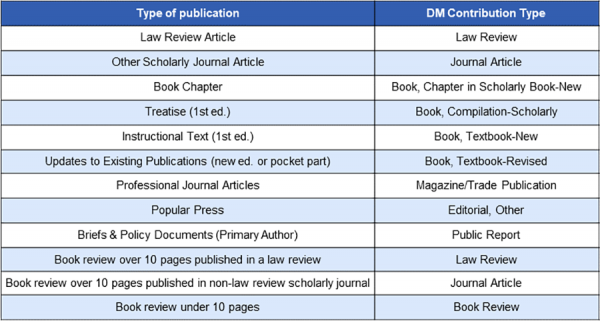 3.        Fill out as many of the additional categories as are applicable. Be sure to indicate whether the publication was peer reviewed or not.
4.        If you have questions about how to categorize your work, please email Tim Lytton.
Where can I get help using Digital Measures?
If you are having trouble using Digital Measures, please watch the instructional videos. If you are having a specific issue not included in the videos, please contact the HelpDesk.
Entering Data
Generating Reports
Security Concerns
Who has access to my data?
College of Law system administrators and university upper-level administrators will have access to your Digital Measures entries. In the future, we hope to be able to push the limited data entered in Digital Measures into faculty directory pages to illustrate recent activities without duplicate entry.
Is there any sensitive personal data in the system?
Aside from pre-populated demographic data, only information given by the user will be stored. Faculty members have the opportunity to choose which professional information can be shared.
How secure is Digital Measures?
The Digital Measures system is committed to keeping your information secure. All Digital Measures servers are fire-walled and implement an intrusion detection system, while transmitted data is encrypted over a 128-bit SSL connection.